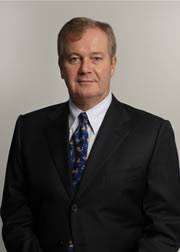 Gregory W. O'Neill
Esq. – Managing Partner
Gregory O'Neill has conducted over 100 jury trials and is considered one of the top maritime personal injury defense lawyers in New York City. Certified in mediation, Greg has been an advocate for clients that have included associations, municipalities, marine operators and their insurers. Some of his high profile cases have involved defending cruise lines with passenger class actions including a class seeking damages for an outbreak of legionnaire's disease aboard a cruise ship. He served as Special Counsel to the County of Suffolk obtaining a fraud verdict against the Long Island Lighting Company which had a potential judgment of $4.3 billion. He has also successfully defended the County against a $2.1 billion claim for breach of contract.
Greg has presented papers at various maritime seminars and conferences including the Tulane Admiralty Law Institute and Lloyds London.

Greg has dedicated his career to the maritime industry and continues to make important contributions to its overall uniformity.

ADMISSIONS:
New York
Florida
United States District Court, Southern District of New York
United States District Court, Eastern District of New York
United States District Court, Southern District of Florida
AFFILIATIONS:
Florida State Bar Association
New York City Bar Association
New York State Bar Association
American Bar Association
Maritime Law Association of the United States
Maritime Association of the Port of New York/New Jersey
Comite Maritime International Titulary Membership
SELECTED REPORTED DECISIONS:
Desiderio v. Celebrity Cruise Lines, Inc., 1999 A.M.C. 2723 (S.D.N.Y. 1999) (class action against cruise line);
Colon v. Apex Marine Corp., 35 F.3d 16 (1st Cir. 1994)(injury to seaman);

County of Suffolk v. Long Island Lighting Co., 907 F.2d 1295 (2nd Cir. 1990)(RICO claim against nuclear power company);
Black v. Red Star Towing & Transportation Co., 860 F.2d 30 (2nd Cir. 1988)(Jones Act and unseaworthiness claim by marine engineer);
Silivanch, V. Celebrity Cruises, Inc., 2000 U.S. Dist. LEXIS 12155